Let me explain my voting philosophy over the last ten years. Elections are about contrast; they are not held in a vacuum. I believe in the two-party system; I don't believe in writing in candidates or voting for third-party candidates.
On Election Day, my vote will either be cast for the DFL or Republican candidate for partisan office.
As I get older, I become more of an idealist regarding government and politics. I'm less partisan than I was in the past. I still consider myself a Republican, but I think of myself as "politically homeless" because I don't feel at home or even comfortable inside the Republican Party of today.
Aside from becoming an idealist, I'm also an eternal optimist. I'm a glass-half-full, partly sunny instead of a party cloudy person.
I don't vote based on party labels but rather on the candidate's qualities. Unlike my past voting behavior, which was robotic and partisan, I have spent the last decade taking a more thoughtful and deliberative approach to voting.
My evolution in voting has created friction and tension between myself and my more partisan Republican friends. I'm sure this post will generate more disagreements, but I stand by my decision.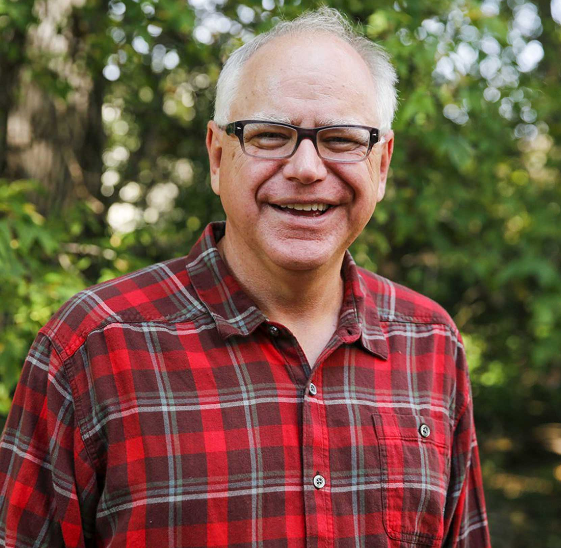 In the race for governor between DFL-incumbent Governor Tim Walz and Republican Dr. Scott Jensen, I will be voting on Election Day for Governor Tim Walz.
If you've followed my analysis and commentary on social media, I've been clear about my concerns with the candidacy of Scott Jensen. I decided long ago that I would not be voting for Jensen.
But it was the final debate between Walz and Jensen – on October 28, 2022 – when I decided that I would vote for Walz AND that I would be public with my decision. I want to explain why.
As I listened to Walz and Jensen's debate for the final time, I wanted to hear the closing message from both candidates.
I was struck by how many times Jensen kept bringing up COVID-19 in the debate. In a recent poll of likely issues that will influence how people will vote to come into the election, the "COVID Response" poll was at 2 percent – behind "Not Sure" at 3 percent.
Why would a candidate spend so much time in his final debate with his opponent talking about an issue that isn't important to voters? Because it's Jensen's top issue.
Let's examine why.
For a candidate like Jensen to succeed, he needs fear and uncertainty; otherwise, he can't be the solution – or even relevant. This is why Jensen can't let go of COVID-19. This fear and uncertainty fuel Jensen's campaign.
The pandemic and promoting conspiracy theories gave Jensen the political platform to run for governor. Without COVID-19 and conspiracies, I don't believe Jensen would have succeeded at becoming the Republican-endorsed candidate for governor. He is a one-dimensional candidate.
Jensen knows this, which is why his campaign continues to focus on COVID-19 and peddle misinformation as we enter the election's final days.
Before the pandemic, Jensen wasn't a guest on national-talk shows he wasn't a household name and wasn't traveling the state, speaking to crowds of people. He wasn't selling t-shirts boldly – and inaccurately – claiming he was "RIGHT."
The pandemic made Jensen the candidate he is today.
In the final moments of the last debate, Jensen was using his temporary platform to spread misinformation about COVID-19. Good candidates evolve and grow on the campaign – but not Jensen. He's stayed the same anti-vax conspiracy theorist he's always been since he announced his intention to run for governor over 600 days ago.
One of the most significant issues I have with Jensen's approach to COVID-19 is that he tried to stop families. – just like mine – from exercising their medical freedom based on their personal choice.
Jensen went to court to block COVID-19 vaccinations for children. When asked about his support for the lawsuit to stop children from being vaccinated, Jensen later admitted that he hadn't read the complete lawsuit.
I don't want Jensen to be my doctor or my governor. I have no plans to seek his medical advice, and I don't believe he will be elected governor next week.
But since Jensen wanted to talk about COVID-19, let me share my thoughts on how I think Governor Walz did in response to the pandemic.
In the most difficult circumstance facing Minnesota in my lifetime, I think Governor Walz did a damn good job.
I can't entirely agree with every decision made by Governor Walz, but I do believe he got far more right than wrong. I didn't consider Governor Walz part of the problem in Minnesota's response to the pandemic; I thought he was part of the solution.
I didn't see a video of Governor Walz participating in COVID-19 briefings and hearings from the golf course as I did from Jensen. For months, I watched on TV and saw Governor Walz engaged in getting Minnesota back to normal as quickly as possible in the safest way possible.
I don't believe Governor Walz's response was perfect; I didn't expect it to be perfect.
I remember when Governor Walz ordered Minnesotans to stay at home for two weeks, which eventually lasted longer than two weeks. Schools were closed; businesses were shut down. Our daily lives as we knew them ended.
Like many Minnesotans, I was, at times, angry, frustrated, and scared during the pandemic. I would bet that Governor Walz was, at times, also angry, frustrated, and scared during the pandemic.
My family and I followed the COVID-19 mitigation strategies recommended by Governor Walz and his administration. The mitigation strategies were adjusted as the medical community learned more about COVID-19.
I stayed home longer than I wanted, wore a mask longer than I wanted, and was isolated from my family longer than I wanted.
But I'm alive today, and so is my family.
Sadly, to date, 13,873 Minnesotans have died due to COVID-19.
I can't imagine how the numbers would look today if Scott Jensen were governor.
By every available indicator, Jensen is losing the race for governor – in a political environment where he could be winning. I believe Jensen knows he will lose, which is why he continues to talk about COVID-19, even when polling shows that Minnesotans are more concerned about other issues.
Jensen keeps coming back to COVID-19 because he's talked himself into trouble on nearly every issue important to voters. On issues such as abortion, the 2nd Amendment, and on taxes and spending, Jensen simply can't be trusted.
Governor Walz perfectly described Jensen's approach to running for governor as "admiring a problem and not offering solutions."
"Admiring a problem" = Jensen's fixation on COVID-19.
"…and not offering solutions" = Jensen's campaign has been unserious about offering detailed policy plans.
This week Jensen admitted that he doesn't have "a formal education plan put together right now…." Jensen's budget plan has no detailed specifics because Jensen is still "brainstorming" on his approach.
I don't think Minnesota has heard the last of Jensen. I think his campaign for governor wasn't built to win a race; instead, it was designed to promote any thought or conspiracy theory that gets Jensen's attention.
I'll have more analysis and commentary about how and why Jensen lost the race for governor next week. But since I'm an internal optimist, I want to end this post with some final positive thoughts.
I am not casting my vote against Scott Jensen; I am voting for Governor Tim Walz.
Minnesota is facing serious issues – most importantly, public safety, education, and the economy.  I believe Governor Walz is clearly the best candidate to be part of the solution – as he was during the pandemic – which is why he has my vote.
Picture source: Tim Walz for Governor Committee